Results tagged ' sports '
*WEDNESDAY UPDATE: The hog snouts have arrived. Be one of the first 600 in the gates to get yours Saturday, then meet the Hog himself, Joe Jacoby.
—————————————————————————————————————————————————–
Get your sundresses, wigs and garden hats ready. We'll provide the pig noses (to the first 600 fans).
Yes, former Hog and Washington Redskins great Joe Jacoby will be in attendance for Saturday's 6 p.m. game against Potomac, which will serve as our annual Salute to the Gridiron Night. He'll be signing autographs from about 6-8 that night and all Hogettes (see picture above) are more than welcome to attend.
As I mentioned in the second sentence of this post, we'll be giving away free hog snouts to the first 600 fans in the gates, which open at 5 p.m. More on Joe Jacoby below and you can get your tickets here. Read the press release here.
*If you need a Joe Jacoby reminder, it's probably best to start with the what is maybe the greatest play in Redskins history:
It's 1983, 4th and 1 in the 4th Quarter of Super Bowl XVII and the Redskins trail 17-13. The play call, "70 Chip," a handoff to John Riggins right behind Jacoby, the left tackle:
Note how Jacoby blows his man off the line and flattens him, clearing the way as the rest of the 'Skins hold their blocks. A good article on the play was published last in 2012 in The Sporting News. Jacoby's quote in the story:
"I didn't know (Riggins scored) until I looked up and saw him down in the end zone, because I was in the bottom of the pile in the mass of humanity that was all piled up there," Jacoby says.
More footage of Jacoby and the Hogs blasting holes in the Dolphins' defensive front.
*Things to know about Joe Jacoby: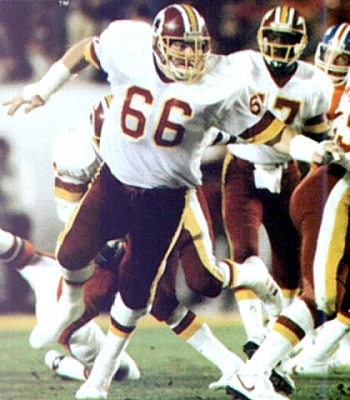 He went undrafted out of Louisville in 1981 and signed with the Redskins as a free agent that year
An offensive tackle for essentially his entire career, Jacoby played all 13 years with Washington, winning Super Bowls in 1983, 1988 and 1992
He was selected to the NFL Pro Bowl in four consecutive seasons (1983-86) as a left tackle
Named an All-Pro in '83 and '84
Selected to the NFL's 1980s All-Decade Team
One of 45 players, coaches and owners that have been inducted into the Redskins Ring of Fame at FedEx Field
Nickname during playing days was "Jake"
One of the original five Washington offensive linemen that became known as The Hogs, a dominant, bruising group that cleared the way for the Redskins' rushing attack and protected quarterbacks Joe Theismann, Doug Williams and Mark Rypien in the early '80s through the early '90s
Jacoby helped lead the way on John Riggins' iconic touchdown run in Super Bowl XVII, in which the Redskins set a Super Bowl rushing record, one they would break five years later in Super Bowl XXII
Retired from the NFL in 1993 and currently coaches the offensive line at John Handley High School in Winchester, Va.\
*Did you know that after 30 years, the Hogettes retired in January?
See you Saturday. Shake your Keys. And Hail.
Wednesday was a good day for the Keys — they snapped a 3-game losing streak and beat Carolina and just over a half an hour after their 6-2 win, starter Eduardo Rodriguez was selected to play in Sirius XM All-Star Futures Game.
More on the Keys' victory a little later. First, let's talk about Rodriguez.
*One of the Keys' two Carolina League All-Stars, Rodriguez is 6-4 with a 2.85 ERA in 14 starts and was named Baltimore Orioles Minor League Pitcher of the Month for May, when he went 5-0 with a 2.23 ERA in six starts. He is tied for fourth in the Carolina League in ERA and is tied for second in innings pitched, having thrown 85.1. He threw a scoreless inning at the California-Carolina League All-Star Game, and more on his experience in San Jose can be viewed in this blog post from last week. He'll join Cuban outfielder Henry Urrutia as the two O's prospects at the game. Rodriguez is the only player from Venezuela selected to this year's game.
Some reaction for Eduardo on being named pitcher of the month and his selection to the Futures game:
[tweet https://twitter.com/eduardorod5/status/348246951923417088] [tweet https://twitter.com/eduardorod5/status/349987785228288000]
And from others:
[tweet https://twitter.com/Orioles/status/349974200729092096] [tweet https://twitter.com/EddieInTheYard/status/349989310830882817]
*Read more about Rodriguez and his upcoming trip to the Big Apple here. Both the U.S. and World rosters are here. And here's a video of MLB.com analyst Jonathan Mayo breaking down the World roster, though Eddy didn't get any extra love.
*As for yesterday's win, fueled by Glynn Davis and Michael Ohlman, read about it on FrederickKeys.com here or in the Frederick News-Post here. The highlight of the game came on defense, when Johnny Ruettiger robbed Carolina of a possible two-run double in the bottom of the eighth, protecting the Keys' one-run lead.
*Tonight, the Keys go for a series split in Zebulon, N.C. Tim Berry, who's 3-1 with a 3.24 ERA in June,  starts against Michael Peoples. First pitch is at 7:15 with coverage beginning at 6:45 on wthu.org. Listen here or on 1450 AM The Source. All you need to know regarding tonight's game is below, in the game notes:
*The seemingly inevitable bad news about former Key and top prospect Dylan Bundy finally came yesterday — he needs Tommy John surgery. More on Bundy below:
[tweet https://twitter.com/danconnollysun/status/349968258591502338] [tweet https://twitter.com/si_mlb/status/350057422301298689] [tweet https://twitter.com/MiLB/status/350012348901228544] [tweet https://twitter.com/EddieInTheYard/status/349984058916343808]
*Now, to cheer you up, read this story from Tim Kurkjian about 2011 Key Manny Machado chasing the all-time doubles record, set all the way back in 1931.
*The Keys return home Friday at 7 p.m. to play Winston-Salem. Buy your tickets here and get your 25th season card set at Friday's game.
*And I'll end today's post with a public service announcement. Watch out for bears in downtown Frederick.
Shake your Keys.