Good Afternoon Keys Fans!
The orange and black try for their fifth straight victory on Tuesday following a 7-3 win over the Myrtle Beach Pelicans on Monday night at TicketReturn.com Field. With the victory, the Keys are now two games over .500 for the first time this year, while the win gives the club the top road record in the Carolina League (21-12). That includes four straight winning roadtrips after last night's triumph.
Tonight, the team goes back to work against the Pelicans. A late pitching switch will put right-hander Ivan Hernandez on the mound against Pelicans righty Jeremy Null. Activated off the disabled list, Hernandez will be making his first start since August 8, 2013 with the GCL Orioles. This will also be Hernandez's first appearance since May 30. He has been out with a left quad injury.
You can catch tonight's broadcast on 1450 AM The Source, frederickkeys.com and the TuneIn Radio App. First pitch is slated for 7:05 p.m while the broadcast kicks off at 6:50.
Also, if you're near a computer or radio tonight, be sure to listen to ESPN Radio 980 at 8 p.m as Chris McDonald (aka Shooter McGavin) will join former Keys broadcaster Tim Murray to talk about his upcoming appearance at Nymeo Field and much more! We will also be sure to post the link to the interview later on!
Remember if you haven't gotten your tickets yet there is still time! You can call 301-815-9939 or visit frederickkeys.com. Two extra enhancers for you. If you come to the game (and get in line early enough) you can get a Shooter McGavin Bobblehead (courtesy of Pretzel and Pizza Creations):
AND….finalizing your ticket plans for Saturday gives you free rein to do this as many times as you want: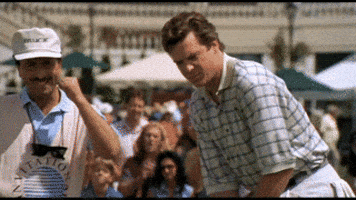 You just may want to be alone when you're celebrating. We won't laugh, but others probably will.
Tonight's notes are below. Shake your Keys!
Geoff
NYMEO Field · 21 Stadium Drive · Frederick, MD 21703
Tuesday, June 14, 2016 · Game #64 · Road Game #34
Frederick Keys (33-31) vs. Myrtle Beach Pelicans (33-30)
RHP Ivan Hernandez (1-0, 3.66) vs. RHP Jeremy Null (2-2, 2.45)
FAST OFFENSE NETS KEYS FOURTH STRAIGHT WIN: The Frederick Keys scored six times in the first four innings and got a terrific start from Lucas Long to defeat the Myrtle Beach Pelicans 7-3 on Monday night at TicketReturn.com Field. It was the Keys fourth straight victory. Aderlin Rodriguez drove in Cam Kneeland following a double and a Pelicans error in the first, before a Gioskar Amaya solo homer tied the game. However the Keys would follow with five unanswered runs to grab the lead for good. In the second, Erick Salcedo doubled home T.J Olesczuk, while Connor Bierfeldt cranked a solo homer to left in the third to make it a 3-1 affair. In the fourth, the orange and black plated three more. Wynston Sawyer got hit by a pitch with the bases loaded to force in an additional run and knock Erick Leal out of the game. One batter later, a throwing error by Gleyber Torres scored two more to extend the Keys advantage to 6-1. That would be plenty of support for Long, who surrendered just the homer over six innings.
DON'T STOP NOW BOYS: On Tuesday the Keys try and equal their longest winning streak of the season (five). Frederick accomplished this feat from May 1-5 against Winston-Salem, Wilmington and Potomac. This current four-game win streak is the club's second-longest run of the year. Additionally, this hot stretch has moved the Keys two games over .500 for the first time in 2016, while it is the first time the club has been two games above sea-level since last June 2. Not a bad accomplishment considering the Keys have been as many as nine games below .500 this season (the team was 7-16 following a loss on April 30 to Winston-Salem).
BASHING BIERFELDT: Conor Bierfeldt has been a force to be reckoned with in June. In his first 12 games, he is batting .286 with five home runs, 13 RBIs to go with a .667 slugging percentage and a .993 OPS. The five longballs and 13 RBI are tied for the most in the CL in June, while the Connecticut native has homers in consecutive games and RBIs in each of his last three contests (four).
POWER BATS: Thanks to Conor Bierfeldt's home run on Monday, the Keys yearly total has reached 45. That is the second-most in the Carolina League, with the Keys trailing only Lynchburg (56). Keys pitching is mindful of Myrtle Beach's home run prowess though, as the Pelicans have clubbed 44 home runs (they rank third in the CL). That includes 10 home runs in nine games against the Keys. Yasiel Balaguert paces the Birds in home runs with nine.
PITCHING PICKS IT UP: Since allowing six runs on Friday, Keys pitching has gotten back on track over the last four games. During that time, Keys arms have surrendered only three earned runs (six total) in 32 innings and given up just 23 hits. That includes a pair of shutout wins during Saturday's twinbill at Potomac. Like in May, Keys relief pitching has remained a point a strength this month, tallying a 2.61 ERA (48.1 IP/14ER) in 14 games, after finishing with a 2.65 figure the month prior.
ONE LAST ROADTRIP: The Keys are in the middle of their final first half roadtrip. Following the five-game series against the Nationals (Thursday-Sunday) the team heads south to Myrtle Beach for three games against the Pelicans. A team made up of road warriors, the Keys own the best road mark in the CL this year (21-12), while the Keys are in the midst of their second road winning streak of four or more games (the Keys won five straight road games from April 24-May 5). Although the Keys have been eliminated from first-half playoff contention, a strong showing down the stretch could help the Keys post their first winning half since 2012, when the team ended the second half with a 35-34 record. It would also be Frederick's first winning first half since 2011 (That year the team went a league-best 41-28).
HEY NOW YOU'RE AN ALL STAR: Three Keys players were named Carolina League midseason all-stars last Wednesday. Matthew Grimes, Aderlin Rodriguez and Jonah Heim will participate in this year's Carolina League-California League All Star Game on Tuesday, June 21 at 9:30 EDT. The game will he played at the home of the Lake Elsinore Storm (Padres). Grimes receives his first pro all-star nod following a stellar first half on the mound. In 12 games he is 7-3 with a 1.66 ERA and just wrapped up a 28-inning scoreless streak. Rodriguez earns an all-star nod in his first CL season thanks to robust power numbers. In 57 games, he is batting .272 with 10 homers, 39 RBIs, 11 doubles and two triples. He has racked up 108 total bases and a .466 slugging percentage. He is currently tied for second in the CL in homers and tied for third in total bases. Heim makes his first pro all-star game appearance. He leads all league catchers in caught stealing percentage (32.8%).
ODDS AND ENDS: Thanks to Monday's win, the Keys secured their fourth straight winning roadtrip (they grabbed five of seven during their last jaunt to Winston-Salem and Carolina). The team has not suffered a losing roadtrip since the end of April (when the Keys dropped three of four at Lynchburg). Six of Cam Kneeland's 10 hits in June have gone for extra-bases (four doubles and two homers). Kneeland is tied for fifth in the CL in two-baggers (16). In his first two Advanced-A games, Mike Burke has retired everyone he has faced in five innings (5 IP/0H/0R/6 SO). Following Salem's win over Potomac on Monday, both first half playoff spots have been clinched, with the Red Sox taking the south and Lynchburg taking on the north (the Hillcats defeated Myrtle on Sunday to wrap things up).
TODAY'S OPPOSING PITCHER: Jeremy Null makes his seventh appearance on Tuesday and his sixth start. His most recent outing came last Tuesday against Potomac. Pitching the second game of a doubleheader, the righty allowed three runs on six hits in 6.2 innings. He struck out six and did not walk a batter. Null's first start of the year came against the Keys on May 14. Earning the win, he tossed five shutout frames of three-hit baseball. The North Carolina native joined the Birds on May 10 from Extended Spring Training. A command specialist, Null has a career BB/9IP ratio of 1.1 (this year it is at 2.1). He split last year between Low-A South Bend and Myrtle Beach going a combined 8-5 with a 3.38 ERA in 117.1 innings pitched. A Midwest League all-star last year, Null was called up to the Pelicans last June 28, after going 6-2 with a 2.33 ERA in 12 starts. With the Pelicans he went 2-3 4.70 ERA. Last season with South Bend, he did not issue a walk until the sixth inning of his fourth start (28.1 IP). He is from Conover, NC the same hometown as former NASCAR driver Dale Jarrett.